PTFA Purchases
Here are some of the recent purchases from the PTFA's fundraising; a printing press for the Art Department and some microscopes for Science.
Microscopes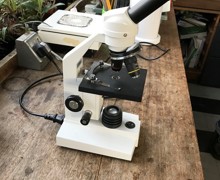 The set of 16 compound microscopes are an essential resource to enable the delivery of the A level Biology syllabus. They are required in four of the 16 core practicals covering a range of applications including microscope calibration to measure cell size, studying plasmolysis in onion cells and looking at the stages of mitosis in a root tip squash. In addition, the microscopes are used extensively to support teaching and learning though the study of pre-prepared slides and this made in-house. The science department would like to thank the PTFA for funding this vital resource.
Printing Press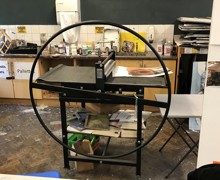 With the arrival of our new 'extra large' printing press, a range of new and exciting printing techniques can now be introduced to our art students. From reduction lino printing to the more experimental collogragh printing, print making allows students of all abilities to explore and experiment with new and exciting extensions of previously introduced processes. We were lucky enough to have our whole department come off timetable to explore processes and techniques we have not had the opportunity to use since our days at University. The opportunities to produce one off and repeated prints means even those with little confidence in the foundation skills of drawing can produce unique and accomplished pieces of art. For our enthusiastic and ambitious students, the opportunity to apply growing skills in dry point printing and reduction processes in Lino and wood block is now possible.